Yikes, long time no blog. We here at Schley's Bonsai, contrary to popular rumor, are not dead at all. Just forgetful and very busy at the shop. But we have exciting news coming for the new year, we will be having a Winter Festival with special guest SEAN SMITH!
Beyond just a packed schedule of classes and workshops, everything in the shop will be on sale 20% off during the event!!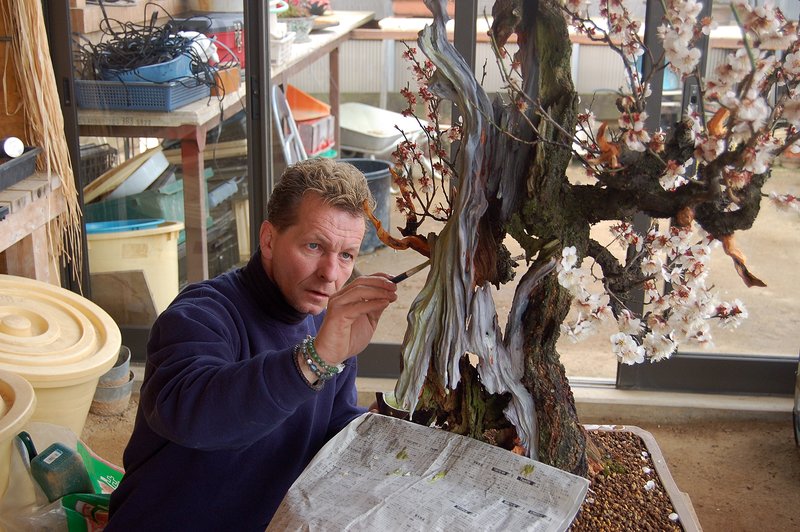 If you're interested in expanding your knowledge of bonsai, check out the links below for some of the classes that are being offered.
Full Schedule and more information about our guest artist beneath the cut.
---
A bit about Sean Smith:
            Mr. Sean Smith lives in the United States in Marysville Pennsylvania, where he owns and operates Custom Oriental Wood-craft.  Sean took his 25 year passion for Bonsai and Suiseki along with his extensive background in carpentry and put all them together to start his own business in 1994. He currently creates Bonsai display tables, and carves Daiza for renowned Bonsai and Suiseki enthusiasts all over the world.  As a result of this work many awards have been bestowed upon him for his craftsmanship as well as his strict adherence to these ancient Japanese art forms.
·         In 2001, Mr. Arishige Matsuura, President of the Japanese Suiseki Association, proclaimed Sean the number one Daiza carver outside of Japan.
·         In 2003, Sean was the first American to exhibit an American Suiseki in the Japanese National Suiseki Show at the Meji Shrine in Tokyo, Japan.


In 2004, Sean was asked by Senji Morimae to come to Japan to study Bonsai and Suiseki at his nursery outside of Tokyo.   With a passion for constantly learning, Sean accepted the invitation.  As a result he was able to hone his skills as well as broaden his knowledge of Japanese related antiques.  Sean continues to make this trip every year and has been fortunate to have studied the following art forms. He is highly recognized as one of the leading authorities of formal Tokonoma display in the West.
Sean has traveled to 5 Continents spreading his knowledge.
·         In 2005, he was invited to study Zen in Daitokuji-in, at the sub temple of Hoshyu-in in Kyoto, Japan, Staying 2 weeks living and learning Buddhism and Zezen and Tokonoma display,
·          Sean also studied daiza carving in Hamamatsu Japan, with Japan's leading daiza carver, Mr. Koji Suzuki. Sean was his 1st and only student.
·         In 2006, Sean was asked by Seiji Morimae to help arrange Genkokai Suiseki Exhibit in Kyoto,
·         In 2007, Sean Studied Kiri Bako making with Japan's top box maker, Mr.Akira Shiraishi in Tokyo.
·         In 2008 Sean was given  recognition  by the World Bonsai Friendship Federation for the promoting and expanding the Japanese art of suiseki ·         In 2009, Sean got the opportunity to study scroll making, with Mr. Seizi Maruoka, one of Japan's leading scroll makers.
·         In 2010, he studied the art of pot repair with Mr.Nakada Tomohide, in Tokyo.
·         In 2011, Sean studied the art of Display with Mr. Negishi in Hanyu City, Japan.
·         In 2012 he helped arrange A special suiseki exhibit in Koyto
·         In 2013 Sean spent time and intense study with Mr. Sudo in Saitama Japan.
·         In 2014 Sean was one of few westerners invited to exhibit a suiseki in the 1st major suiseki exhibit at the Tokyo National Museum.
·         In 2016 The Nippon Suiseki Association Granted Sean the up most title of Master daiza carver. The 1st to have this honor outside of Japan.
·         2017 invited to demonstrate for the China Penjing Artists Association in Jiangsu Province China.
Currently, Sean lectures all over the United States as well as Central America and Europe And China on Bonsai, Suiseki and Daiza carving, Formal display.  He is also a contributing editor of many international Bonsai and Suiseki magazines as well as the North American Viewing Stone Society, and the International Stone Appreciation Society.  He is also a former director of the National Bonsai Federation in Washington DC., as well as a member of the Nippon Suiseki Association, European Suiseki, Also Penjing Ambassador for the Black Scissors International Penjing Association ,and past president of the Susquehanna Bonsai Club, in Harrisburg, Pennsylvania. In addition, he is the head organizer for the International Stone Appreciation Symposium held every 2 years since 2002, in Harrisburg, PA.